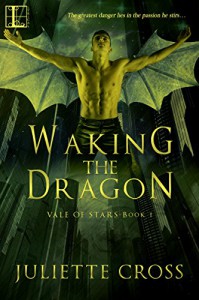 Once again a great start to a new series by Juliette Cross.
This series is about the Moonring Clan, relatives of the Nightwing Clan. We first met Kol in Windburn, Book 2 of the Nightwing series. Waking the Dragon takes place about 5 years after the first book Soulfire. In Soulfire we met a very young and naive Moira. Now she is 20 years old, senior editor of her college newspaper and working her way to becoming a a kick-ass investigative reporter.
Girls are being slaughtered in Gladium province and Moira is deep into her research. She turns to her Morgan brother in law for assistance and she is given it in the form of Kol Moonring. Of course they are so similar in their stubborn, headstrong attitudes, it only leads to sparks and fireworks. Each resists their attraction to each other behind snide, prickly veneers. But when Moira must act as bait and then becomes a target for the faction responsible for the murders, things quickly change between them.
What follows is an adventure wrought in passion and wonder but tainted with much fear and danger. I really enjoyed this book. And if my guess is not wrong, it does have a huge spoiler for what could possibly be book 4 in the Nightwing series or the start of a whole new one. Gosh I really want to know what the heck happened there. Confused? Read the book for yourself and see if you can figure out what I'm talking about.
Free copy provided in exchange for an honest review.